The Storied Life of A.J. Fikry by Gabrielle Zevin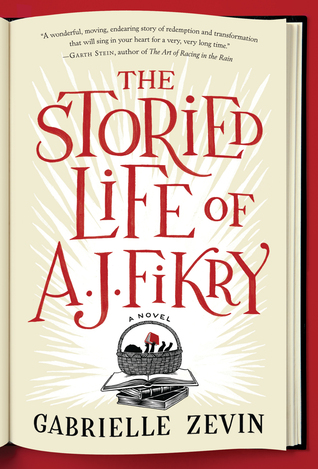 Summary from Goodreads:
Hanging over the porch of the tiny New England bookstore called Island Books is a faded sign with the motto "No Man Is an Island; Every Book Is a World." A.J. Fikry, the irascible owner, is about to discover just what that truly means.
A.J. Fikry's life is not at all what he expected it to be. His wife has died, his bookstore is experiencing the worst sales in its history, and now his prized possession, a rare collection of Poe poems, has been stolen. Even the books in his store have stopped holding pleasure for him. These days, A.J. can only see them as a sign of a world that is changing too rapidly.
And then a mysterious package appears at the bookstore. It's a small package, but large in weight. It's that unexpected arrival that gives A.J. the opportunity to make his life over, the ability to see everything anew. It doesn't take long for the locals to notice the change overcoming him or for a determined sales rep named Amelia to see her curmudgeonly client in a new light. The wisdom of all those books again become the lifeblood of A.J.'s world and everything twists into a version of his life that he didn't see coming.
Bibliophilia or bibliophilism is the love of books. Accordingly a bibliophile is an individual who loves books.



When I talk about being in an online book club, which is usually in a manner that's more enthusiastic than necessary, I get a mixture of reactions. Disinterest. Like we were accountants, bean counters who go and meet up to, well, count beans.
Or I get something that is between a smirk and a snort (A smort?). Or the "how quaint" look. There are the very few people who would ask me how we go about doing it, the process of reading and discussing and picking books to read together. When a friend of mine had just gotten her heart broken, I told her to read a particular book which I thought might help in dealing with the emotional pain. I got it out of my bag and told her all about it, in a
kind of show and tell manner. She said yeah, I'll read it. Translation: Nope. Won't touch that in a million years. I would have gotten feedback right about now, if she did. Gosh I am droning on and on again. Anyway, what I am getting at is, what
A Storied Life of A.J. Fikry does is to make me love books and book lovers alike, even more than I already do.
We are a rare species, I feel.
The Storied Life of A.J. Fikry revolves around a man named A.J. Fikry, the owner of a small, indie bookstore on an island. Having lost his wife, he has become tired of living. He is struggling to keep his book store afloat, has been drinking more than necessary, has become more cynical and curmudgeonly. Then on a night of drinking and depression, A.J.'s most prized possession went missing right in his very home. A very rare piece of literature written by Edgar Allan Poe entitled: Tamerlane. Just when he was about to give up, A.J. stumbles upon something completely unexpected that turns his life around.
I must admit, I felt that the story precariously perched on the precipice of being a tad Hallmark-y. You know like those made-for-TV family-centric movies characterized by being sentimental and inspirational. I have no beef with this, so long as it isn't overdone to the point of absurdity. And The Storied Life, merely borders around it, but never completely tips over to the mawkish side. There's a manic pixie dream girl though. And a bunch of soap opera-ish plot twists. But it's fine! Because Zevin's writing is clean and sharp and witty and engaging and funny. A.J.'s short story reviews scattered around the book, in particular, are such a treat to read. So full of heart and passion. Perhaps that is what most of the book feels like as well. A hearty and passionate tale of second chances in love and life.
All in all, I think Zevin manages to capture that magical connection book lovers have with literature and with each other. And I said to myself after reading the last page: This is why we read. Group hug, bibliophiles. XD