Tiny Beautiful Things: Advice on Love and Life from Dear Sugar by Cheryl Strayed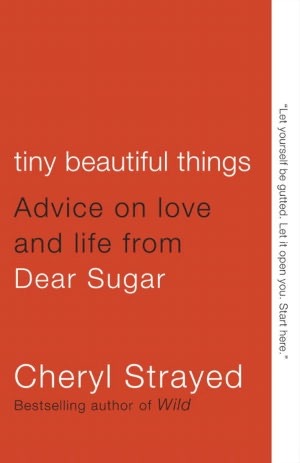 Summary from Goodreads:
Life can be hard: your lover cheats on you, you lose a family member, you can't pay the bills. But it can be pretty great, too: you've had the hottest sex of your life, you get that plum job, you muster the courage to write your novel. Everyday across the world, people go through the full and glorious gamut of life - but sometimes, a little advice is needed. For several years, thousands turned to Cheryl Strayed, a then-anonymous internet Agony Aunt. But unlike most Agony Aunts, this one's advice was spun from genuine compassion and informed by a wealth of personal experience - experience that was sometimes tragic and sometimes tender, often hilarious and often heartbreaking. Having successfully battled her own demons while hiking the Pacific Crest Trail, Cheryl Strayed sat down to answer the letters of the frightened, the anxious, the confused; and with each gem-like correspondence - of which the best are collected in this volume - she proved to be the perfect guide for those who had got a little lost in life.
What makes Cheryl Strayed's Dear Sugar Column different from the myriad of other advice columns out there is that there is always a piece of Sugar in every response. Not only do I feel that she identifies with the people writing to her about their problems, but it feels like she is them. It's not sympathy she gives but empathy, and good old solid advice, and sometimes the occasional spanking, on paper of course. It helps that she has excellent writing chops. Her sentences are engaging. She knows how to string words that generate maximum impact, and turns a little poetic at times too. And don't let the name fool you. She isn't your sweet old granny, more like your sharp, no-nonsense, outspoken aunt. And even though she gives advice in a very straight forward manner, she is never mean or condescending. Rather, it's more like compassionate honesty, with a little kick.
"Forgiveness doesn't sit there like a pretty boy in a bar. Forgiveness is the old fat guy you have to haul up a hill."
"You don't have a right to the cards you believe you should have been dealt with. You have an obligation to play the hell out of the ones you're holding and my dear one, you and I have been granted a mighty generous one."
"Don't lament so much about how your career is going to turn out. You don't have a career. You have a life. Do the work. Keep the faith. Be true blue. You are a writer because you write. Keep writing and quit your bitching. Your book has a birthday. You don't know what it is yet."
"Your assumptions about the lives of others are in direct relation to your naïve pomposity. Many people you believe to be rich are not rich. Many people you think have it easy worked hard for what they got. Many people who seem to be gliding right along have suffered and are suffering. Many people who appear to you to be old and stupidly saddled down with kids and cars and houses were once every bit as hip and pompous as you."
This book is truly not like anything I have read before. I must admit, having to plow through stories about real people with real problems, feels a little strange. It's brings a certain sense of intimacy (with strangers) which I found a bit unsettling. But still, I marveled at the realness of the whole thing. So this is humanity.